Windows to the Past is a multi-day holiday event that runs from December 1st through December 10th. One of our veteran docents, Downing Greenleaf, had an idea a few months ago. He wanted to recreate and share the holiday season of his youth, complete with vintage American Flyer Trains. And suddenly, a multi-day event, Windows to the Past, was born.
Over the course of a few weeks, Downing transformed the bottom of the historic Tovar House into a toyland. We'd like to share his story with you.
How long have you worked for the St. Augustine Historical Society?
7 years
How old were you when you got your first train set?
We were given the American Flyer by our Grandfather from the time we were small children. I do not know how old we were exactly.
How many train shows do you participate in a year?
One or two a year. On occasion we go to about five a year.
How long did it take you to construct the Tovar Toyland track?
It took about three years to get it to its current configuration. It was working in about one year. Then went through three years of upgrades and alterations.
Can you tell us a little bit about the holiday season from your childhood?
 It was a good time in my life. We had a big family. Always a lot of love and caring. Easter was a large holiday also.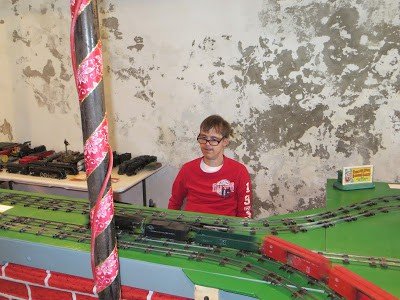 What do you like about sharing trains with visitors?
 Seeing the people my age thinking about their childhood and the look on the children's faces when we put out our trains.
Can you tell us a little bit about the idea behind this multi day event?
We like to let people run the trains themselves.  Having the display up for more than one day will allow more people the chance to try it. 
Admission is free for St. Johns County residents with valid ID. For non SJC residents, admission is included with purchase of Oldest House ticket.