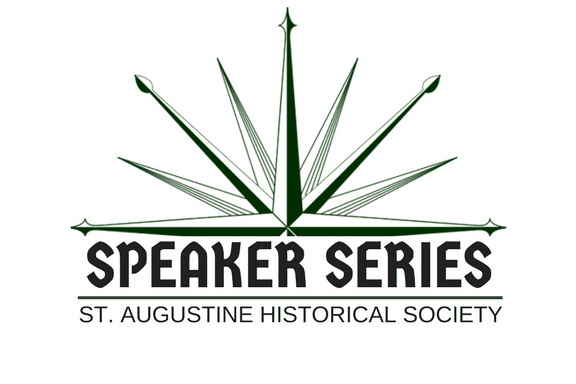 At the St. Augustine Historical Society we "acquire, preserve, and interpret the historical resources of St. Augustine and its sphere of influence." On a daily basis, our staff both at the Research Library and the Oldest House Museum Complex engage our mission statement. For the moment, I'd like to hone in on that last goal–the act of interpretation.
We enact interpretation through the tours and exhibits of The Oldest House Museum Complex. Our docents work to showcase early Spanish colonial life to locals and tourists alike.
There is, however, another side to interpretation: lectures. For years, the Society has been fortunate enough to connect with scholars from a variety of disciplinary backgrounds and specializations. Every year, we generate a lecture series for the community because we are deeply invested in exploring the nuances that make this place home. At the Society, we have the opportunity to collaborate and engage with some pretty amazing, insightful people.
I'd like to take this time to introduce our next speaker, Donn Colee Jr. He will be delivering his talk "Towers in the Sand" on March 2, 2017 at the Flagler Room. He's offering a book signing at 6:30 pm and books will be available for purchase! (We love a good book signing and chance to talk with an author!)
Part of the impetus of this particular blog series is to showcase the diverse fields of study that engage St. Augustine and how these perspectives help locate our city in larger histories. Colee's talk engages social history and specifically considers the Florida ecology of broadcasting. His talk gives us new ways to understand Northeast Florida. You can check out his formal bio by clicking
here.

What drew you to your discipline?
Broadcasting is in my blood. My mother and father met while both were working at St. Augustine radio station WFOY in the mid-1940s. My dad was a jive-talking disc jockey; my mom, still attending Ketterlinus High School, was the town crier, ringing a bell at noon and reading announcements about area events.

We moved to Orlando when my father got a new job at WLOF, then built Orlando's second TV station, Channel 9. I hung around the station as a youngster, dreaming of the day I could be in broadcasting.


My parents divorced, and dad got a bigger broadcasting job up north. I stayed in Orlando with my mother and sisters, but those broadcasting dreams continued as a young teen, playing DJ with my phonograph in my room. I finally got a job at the same station my father had worked at years before, except now I was just out of high school and a rock 'n' roll DJ on Orlando's top radio station.


The Vietnam War interrupted my career, and while I didn't serve in the war zone I spent four years in the Navy, some of those working part-time in Armed Forces Radio. When I returned to the states, I went into the advertising business before being recruited to back to broadcasting at the CBS television station serving the West Palm Beach market I served in marketing, community relations, and senior management positions–and started writing my book.


What is your research process like?
A lot more difficult than I first thought. I felt I needed to trace every radio and television station in the state back to their origins–only to find many changed call letters like most of us change socks! So I spent about 5 years researching station history, and created what is the only single-source database of every station in the state. That became the backbone of the book–then I needed to find the "people stories" and social history that would make it interesting. I had tremendous support from local historical societies and libraries, and through them connected with broadcasting pioneers and current leaders throughout the state. They told me their stories–I just wove them together.


Why this topic?
Broadcasting touches almost every person in the state (and nation) every day of their lives–but like the air we breathe we seldom give it a second thought. Through this book I hope to help people remember the good times they had with their favorite stations and personalities, and that making those connections will help ensure the future of local broadcasting. I also wanted to show how broadcasting is woven into the social fabric of our state.


What is the best part about your field?
When done well, with serving the listener/viewer top of mind, radio and television can have a significant impact on people's lives and their communities. I was fortunate to have served in some of broadcasting's finest days. I hope through my book to empower listeners/viewers to expect more from their local stations, and for station owners and managers to meet and exceed those expectations.