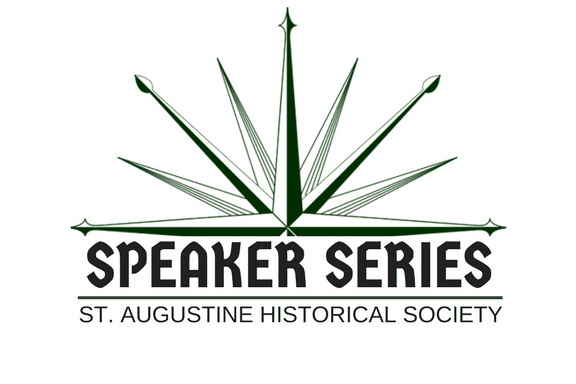 We "acquire, preserve, and interpret the historical resources of St. Augustine and its sphere of influence." For the moment, I'd like to hone in on that last goal–the act of interpretation. Every year, we generate a lecture series for the community because we are deeply invested in exploring the nuances that make this place home. Part of the impetus of this particular blog series is to showcase the diverse fields of study that engage St. Augustine and how these perspectives help locate our city in larger histories.
I'd like to introduce our next speaker: Dr. David Head.
Dr. David Head teaches history at the University of Central Florida. His first book is called 
Privateers of the Americas: Spanish American Privateering from the United States in the Early Republic
 and was published by the University of Georgia Press in 2015. He is currently working on three projects: editing an encyclopedia of the Atlantic world, editing a collection of essays about pirates, and writing a book on George Washington and the Continental Army at the end of the American Revolution. You can check out his website by clicking
here
.
He will be delivering his talk "Privateers of America" on May 9, 2017 at the Flagler Room at 7:00 p.m.
Here's our behind-the-scenes Q&A!
What drew you to your discipline?
I became an historian because of my mom. When I was in high school and college, she would suggest that being a professor would be a good job for me. 
But her influence was more subtle and reached deeper than simple encouragement.
My mom set an example by keeping track of our family's activities. She would write down what we did each day, often something for each kid–and there were six of us!–so that we could have a record.
She did this for over thirty years, and would often mention what we'd done the year before, or ten years before, on the same date, not just for big occasions but for everyday occurrences, too. She showed me that remembering the past matters and there's a lot of meaning in reflecting on life and where you've been.


What is your research process like?
Privateers of the Americas began as my dissertation at the University at Buffalo, which I completed in 2010. I started researching in 2004-2005. In a word, then, my research process was long!


The chief sources I used came from federal court cases now held by the Nation Archives at its regional branches around the country. The pirates and privateers who operated on behalf of the Spanish American republics rebelling against Spain were breaking United States law by launching their ventures from ports like Baltimore and Savannah. As a result, there were numerous civil law suits and criminal cases.
The civil cases were the most revealing. They involved Spanish merchants trying to get back their property and they provided all kinds of details about what was taken, by whom, when, where, and under what circumstances. Often enough, you get depositions from ordinary sailors, which is unusual. The stories can be wild. I remember one instance where a sailor testified about someone threatening to "blow his brains out"!
Why this topic?
I came to grad school wanting to write about pirates, although I wasn't sure exactly which pirates to write about and what new angle I could take.
Eventually, I chose to write about Spanish American privateering from the Unites States because they had been relatively well documented in the federal court records of the early nineteenth century. 

Thanks to the National Archives, those records have been preserved ever since. Few people had written about this particular episode, and the work that did exist was mostly done long ago in the 1920s, '30s, and '40s. It was wide open for a fresh look, and I was able to connect the stories of pirates and privateers to issues that modern historians are interested in, such as how the United States engaged with the larger world outside U.S. borders

Looking back, I can see that the elements of a good history book all came together. I had an interesting story to work with and could be used to make an important argument. 
What is the best part about your field?
For me, the best part about doing historical research is the ability to enter into the lives of people who lived long ago. I read their letters, diaries, business records, depositions and filings in court cases, and I can slowly piece together who they were and how they lived. Public records like newspapers are also helpful for tracking people. It can be surprisingly intimate.

At the same time, so much of any person's life is hidden from the view of others, a problem compounded by the passage of time. Many things are simply unknowable, because the evidence has been lost forever. Still, it's amazing how far you can go with a little creativity and a lot of digging.